2 Days Desert Tour From Marrakech To Zagora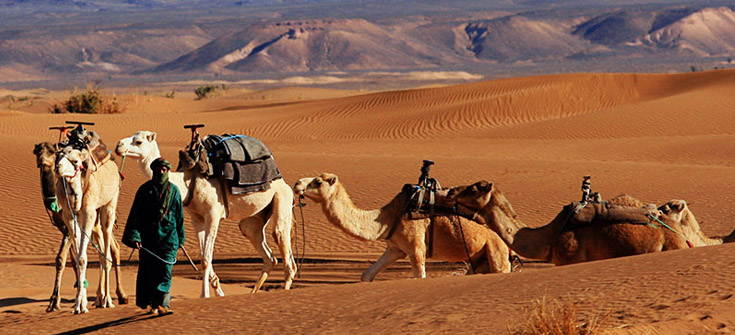 Day 1:

Marrakech – Kasbah Aït Benhaddou – Ouarzazate – Draa Valley – Zagora Camp

The tour starts from Marrakech at 8:00 am in the morning. After crossing the Atlas Mountains, we will reach the first place of curiosity – Kasbah Aït Benhaddou, a UNESCO World Heritage Site since 1987. Aït Benhaddou is also known as "Hollywood of Morocco", where a number of popular Hollywood movies such as The Mummy, Gladiator, Prince of Persia have been filmed. We may visit the Atlas film studios during the tour; either on the first or the second day, depending on the tour schedule (entrance fee is 3 Euros; excluding tour fees).

After visiting Ouarzazate, we will continue the trip through the Draa Valley and the beautiful Oasis. When we will reach Zagora, we will go for a camel ride in the desert which will take us to the Berber desert camp.

If anyone doesn't wish to ride camels, he/she can walk with the guide or take the transport to the Berber desert camp. Our stay will include accommodation in Berber bivouacs with full bedding, dinner and next day morning breakfast.
Day 2:

Zagora – Draa-Valley – Ouarzazate – Marrakech

After a traditional Berber breakfast, we will go for a camel ride to explore the surrounding areas. Then we will return back to Marrakech through the Draa Valley, Ouarzazate and over the Atlas Mountains with many exciting stops on the way. We will reach Marrakech around 6 pm or 7 pm depending on traffic.
2 days tour to zagora price :
No. Of Person
Low Price Accommodations
Standard Accommodations
Luxury Accommodations
1 Person
From 300 Euros
450 Euros
520 Euros
2 Persons
From 220 Euros
285 Euros
415 Euros
3 Persons
From 170 Euros
195 Euros
300 Euros
4 Persons
From 135 Euros
140 Euros
220 Euros
If the tour itinerary you are looking for is not in our tours page, please contact us and we will create an itinerary that suits your needs
create your tour