Morocco is a photographer's dream!
With its rich history, multicultural population and varied geography Morocco is a fascinating country!
Take the opportunity to capture memorable experiences through your lens in the fascinating country of Morocco. Morocco, a land filled with mystery and magic, vibrant culture and friendly people. An ancient and absorbing land full of exotic souks, exquisite scenery, picturesque villages and a dramatic Sahara. Enjoy the sights in and around vibrant Marrakech and ancient Fez, make an unforgettable journey into the Sahara and photograph architecture, dramatic landscapes, villages and people.
Whether you just bought your first camera or you are already a keen photographer, our photo tours offer great opportunities for everyone that enjoys photography and traveling. It's well known that you can take photographs almost anywhere in Morocco but we design this tour to satisfy all the photography interests and visit some special places. Among the group we try to share knowledge of photography and Morocco and support each other's creativity with ideas and tips to create narrative and dynamic travel photographs. Our trip together will include individual and group discussions, inspiring ideas and great fun!
We are very happy to offer you unique, private photo tours and drive you from small towns to crowded imperial cities and from the depth of the Sahara desert to the Atlantic ocean! Contact us!
Day 1 :

Transfer from Casablanca Airport – Chefchaoun:

Meet up in the airport and get to know each other, and then drive for around 3 hours to the Riff Mountains where the small town of Chefchaoun situated in the edge of two peaks. Depends on our arrival to Chefchaoun we may have time to enjoy capturing some first photos in the blue city of Chefchaoun.
Day 2 :

Chefchaoun:

We wake up in this charming town, with steep narrow streets, paved with stones that have been polished by thousands of feet over the centuries. The homes are painted blue, white, azure blue, indigo, and purple and have blue shutters and elaborately decorated doorways.As we start exploring this magnificent city perched high in the Riff Mountains it will appear that the photographic opportunities are endless.
Day 3 :

Chefchaoun – Fes:

After the breakfast we start driving towards the old city of Fez, a medieval world treasure and UNESCO World Heritage Site. As you walk through the maze of streets in the Medina you are literally walking through 1,300 years of Moroccan heritage. It is a spectacular medina where time seems to have stood still and photographs beckon around every corner. With a local guide you will see veiled women and laughing children, donkeys pulling carts and vendors carrying huge mounds of bread on trays above their heads.

It is a maze of intricate lane-ways where carpet makers, manual loom makers and merchant palaces are found within. Photograph the intricate carved stucco walls, arches and cornices. Zoom in on the exquisite mosaics that cover the Nejjarne Fountain and visit the Kairaouine Mosque. Enjoy the souk were merchants sell mounds of colorful spices, carpets, silks and leather goods and visit the legendary tanneries were the city's renowned leather is made with sweat and knowledge passed down generations.
Day 4 :

Fes – Imilchil:

Our 4th day focuses on the nature, small villages, Berber mountain people and fields. We start early morning from Fes and drive towards Ifrane, the Switzerland of Morocco, as it is known for its exceptional character. Then we continue towards Azro forest, where we will stop to picture the Barbary Apes, one of the beautiful native Moroccan animals.

The road will continue through Midelt and the High Atlas mountains via Tizi n'Tlghemt(1903m). After the Atlas Mountains, the landscape changes to a more desert, dry landscape. We continue along a small road through fields where locals are always working among the amazing colors of the poplar trees, particularly in autumn. We reach Imilchilbefore sunset and stop to take photographs of one of the lakes there such as Tislit (the groom). Overnight in a hotel.
Day 5 :

Imilchil – Todgha Gorges – Tizi n Tzazert – Nkob:

Another day of adventure starts early for the ones who are interested to picture the sunrise over the lake. After breakfast, we drive down along the river towards the Gorge of Todgha. After lunch we will continue towards Tizi n Tzazert. We will off road among the amazing volcanic mountain of JbelSaghro. Often there will be nomads grazing their flocks around. We reach Nkob late afternoon where we will spend the night.
Day 6 :

Nkob – Zagoura – Chegaga Dunes:

Don't miss a picture from the terrace of our hotel in Nkob, where the palm trees and Kasbahs in the background are amazing!

Only a half hour drive and we reach the famous valley of Draa, more than 200km of the date palms, remote villages all along. We will see locals working in their fields and notice the black African roots. We follow the valley for an hour to reach Zagoura city, or the capital of dates. Lunch will be there or later in Mhamid. We will drive off road for 2 hours crossing the stony desert and over the dunes. We arrive at the dunes of Chegaga where the experience of riding a camel for some minutes and picturing the sunset up over the dunes will make your day special especially after a long day. Night and dinner under the tents with some music of drums will be a fascinating experience.

For those who want to picture the stars, here will be a great opportunity to test your night photography skills.
Day 7 :

Chegaga dunes – Fint:

If you wake up early the sunrise over the chegaga dunes always offers amazing colors when the first rays of light meet the ground.

Our day starts again off road over thesandy ground up to the dry lake of IRIKI, wereits flat surface and the Anti Atlas Mountainin the background will open your mind for creativity.

We arrive in the town of foumzguid, after a break for tea or coffee we continue towards our lunch place. After lunch we reach the oasis of Fint where our hotel stands above a nice view facing a sea of palms.
Day 8 :

Oasis of Fint- Ait ben Haddou- Marrakech :

Here you can enjoy snapping away nice photos inside the palm groves and the river of Fint. We start driving to visit the KsarAit Ben Haddou, classified as a UNESCO world heritage since 1987, and well-known as being the backbone of many Hollywood blockbusters.

We continue to wards Marrakech via the Famous Tizi n tichka pass (2260m) which offers nice views of the villages and the mountain peaks full of snow during the winter. Night in a Riad in Marrakech.
Day 9 :

full day in Marrakech:

The old-part of Marrakech is much like it was centuries ago, packed with craftsmen, street vendors and vibrant clashes of color. You will feel an incredible sense of old world magic as you walk through the ancient streets of Marrakech. The city is a photographer's paradise that is best expressed in person through your lens.

Capture the colorful chaos of Djemma el Fna Square, where there are great photographic opportunities around every corner, from snake charmers and magicians to cooks and musicians. Venture through the souks which are an amazing labyrinth of covered markets mixed with tradesmen practicing their ancient skills. Highlights of the souks are metal workers, wool dyers and wood carvers. Visit the Ben Youssef Madrasa a beautiful example of traditional Moroccan architecture. The tile mosaics and intricate carvings are exquisite.
Day 10 :

Marrakech – Essaouira:

Nestled between the rugged Moroccan landscape and the sea is the mesmerizing whitewashed fishing village of Essaouira. It is a beautiful mix of French and Moroccan influences with a distinct atmosphere of Moroccan spices, tiny streets, colors, art and music. You will find plenty of chances to exercise your camera shutter and then relax for a hearty lunch of fish.
Day 11 :

Essaouira – Casablanca Airport:

end of your tour: Photography tour Morocco
MOROCCO BIRDING TOUR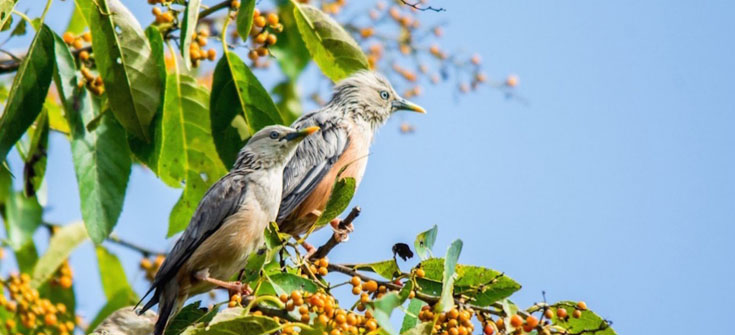 Morocco has the richest avifauna in North Africa and, with its many specialities, including all but one of the North African endemics, ranks as one of the top birding tour destinations in the Western Palearctic (the zoogeographical term for Europe, North Africa and the Middle East).
This scenically spectacular country has a decidedly undeveloped feel and, for those who like travelling somewhere distinctly 'different', a visit to Morocco will be a memorable journey through a land where many regions seem outwardly little changed in centuries. The combination of dramatic desert and mountain scenery, superb desert oases, strikingly attractive mud-walled towns and villages, colourful tribal people and superb birding ensures that Morocco is one of those places that one longs to return to.
From the different cities to the Atlas mountain forest to the vary edge of the Sahara desert, Morocco is magnificent in any reason. Blessed with a very richest birdlife in the north west Africa and classified as the great birding distinations. Specialties of the region include Eleonora's Falcon, Barbary Partridge, Double-spurred Francolin, Marsh Owl, Levaillant's Woodpecker, Atlas Flycatcher, Moussier's Redstart, African Desert and Tristram's warblers, African Blue Tit, Desert Sparrow, and the critically endangered Waldrapp (Northern Bald Ibis).
We design different tours based on the length of the holiday, with a very helpfull team to help you to visit the most well-visited parts for the bird watchers Endemic, rare, and specialty birds from coastal wetlands and towering cliffs to the Atlas Mountains and the northwest corner of the Sahara. From oneday to 15 days our bird watching tour stands.
If the tour itinerary you are looking for is not in our tours page, please contact us and we will create an itinerary that suits your needs
create your tour